Ireland Tours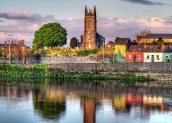 Ireland is our heritage. We know it well.
If you've ever dreamed of visiting the Emerald Isle, you've come to the right place. With rolling green hills, vibrant cities and warm smiles, Ireland is a country of dreams. The Travel Connection has been sending people to Ireland for over 40 years. Whether your visit is for a romantic trip just for two or an exciting tour with a fun group of friends, our team knows  everything about customizing your vacation to the Emerald Isle.
We offer several group trips each year where you can travel with new friends or have us custom create one just for you.
For any travel arrangements to Ireland, give Pat Hollywood a call at 330-562-3178 or email info@TheTravelConnection.com.